Boxes for blocks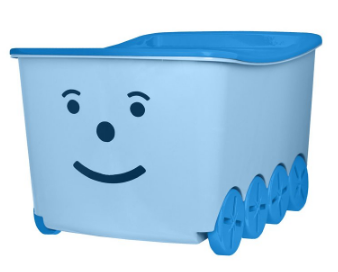 Znaczenie klocków w życiu dziecka
Klocki stanowią bardzo istotny element życia każdego dziecka, ponieważ to dzięki nim maluch od najmłodszych lat uczy się logicznego myślenia, kreatywności, czy choćby precyzji. Wpływ klocków na rozwój naszych pociech jest nieoceniony – nic dziwnego, że zajmują one ważne miejsce w dziecięcym pokoju. Im więcej elementów, tym więcej możliwości i tym samym jeszcze więcej frajdy.
Przechowywanie klocków
Warto zadbać o to, by po skończonej zabawie wszystkie zabawki magnetyczne oraz inne klocki trafiły do miejsca, które będzie do tego celu przeznaczone. Wybierając klocki plastikowe w pojemniku, dysponujemy od razu praktycznym schowkiem, w którym możemy przechowywać wszystkie elementy, jak również możemy je z łatwością przetransportować. Takie pudełko do przechowywania może jednak okazać się niewystarczające w sytuacji, kiedy kolekcja klocków znacząco się rozrośnie. Wieloelementowe zestawy, takie jak klocki plastikowe 500 elementów, czy kombinacje kilku zestawów wymagają odpowiedniej przestrzeni, w której mogą być bezpiecznie trzymane w czasie, kiedy dziecko z nich nie korzysta. W tej roli doskonale sprawdzą się funkcjonalne opakowania przeznaczone do przechowywania zabawek.

Plastikowe pudełka do przechowywania 

W naszej ofercie znajdą Państwo solidne pudełka wykonane z wysokojakościowego plastiku, pochodzące od renomowanych producentów. Proponowane przez nas opakowania dostępne są w różnych pojemnościach oraz w wielu wariantach kolorystycznych, które dzięki estetycznemu wykonaniu doskonale prezentują się na półce. Plastikowe pudełka wyposażone zostały w zamykane wieczka oraz praktyczne uchwyty, co znacząco ułatwia przechowywanie zabawek i ich transportowanie. Niektóre z modeli zostały dodatkowo zaopatrzone w kółka, dzięki czemu jeszcze bardziej zyskują one na funkcjonalności. Przechowując klocki plastikowe w pudełku, nie tylko utrzymamy porządek w pokoju naszej pociechy, ale również zabezpieczymy zabawki przed przypadkowym uszkodzeniem. Przy dużej kolekcji klocków i innych drobiazgów warto zaopatrzyć się w kilka pojemników, co znacząco ułatwi segregację zabawek.

Pudełka do przechowywania

W ofercie posiadamy wyjątkowe pudełka na klocki dla dziewczynek

 i  chłopców

. Wiele rodzajów pozwoli Państwu dobrać odpowiedni pojemnik na klocki na przechowywanie nie tylko naszych zabawek. Opakowania plastikowe ułatwiają przechowywanie klocków plastikowych. Bezpieczne i solidne pudełko na klocki to gwarancja porządku długiego użytkowania naszych zabawek. Wszystkie nasze opakowania posiadają wygodne uchwyty a większość zamykane wieczka. Pudełka wykonane z wysokiej jakości plastiku w żywych kolorach. Niektóre z naszych opakowań posiadają również kółka umożliwiające łatwe przemieszczanie. Przodujący producenci gwarantują najwyższą jakość wykonania wszystkich naszych produktów.