Meli Maxi blocks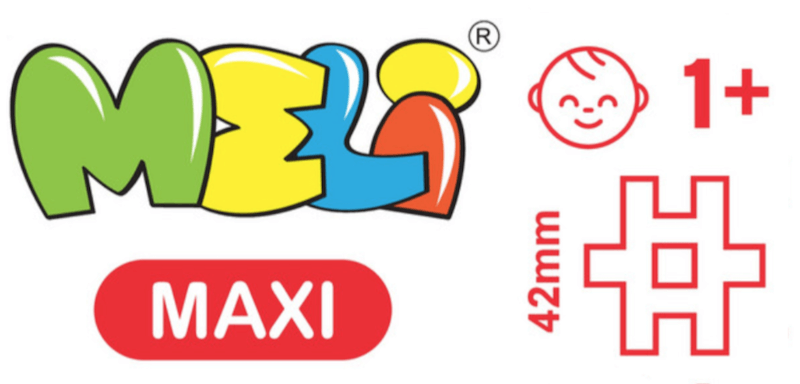 Meli Maxi are unique construction blocks. If you want your child to develop fine motor skills and learn to create beautiful buildings from blocks, then the purchase of a set from this series will be the best choice. Meli Maxi blocks are intended for the youngest children from 1 year of age. These blocks are suitable for your child to learn how to connect the basic elements with each other. There will be time for more advanced sets. Meli Maxi blocks have exceptionally large elements (4.2 x 4.2 cm).
Thanks to this, it is easier for the toddler to connect them together and there is no risk of swallowing them. They can be used in various ways. The blocks can be placed flat like a puzzle or create a spatial structure. This is where parents' help will come in handy. You can use Meli Maxi bricks to build together, for example, a tank, plane, rocket. Girls will surely be much more happy when they make a teddy bear or a dollhouse out of the blocks. The blocks are very colorful, which will surely interest every toddler.
Meli Maxi blocks allow you to develop manual skills in a child. The first blocks for a child should connect as easily as possible. Otherwise, your little one will become discouraged by them. It's a good idea to choose Meli Maxi pads because they don't have any clasps or catches. They are easy to connect and disconnect. The child will surely like playing with them, and in addition, increase their manual skills, because playing with blocks requires quite a lot of precision. Which set will you choose?
MELI MAXI construction blocks - large elements for small builders. If you are looking for something for a younger child, these blocks will work very well. The sets contain large elements that can be easily combined with each other. Much larger elements also mean greater ease of building larger structures. The blocks have a shape similar to a puzzle, so they are easy to arrange into beautiful 2D and 3D shapes. They are colorful, so they will surely interest your child and attract his or her attention for a long time. Made of durable and safe plastic, they can serve as a good toy for a long time. Each set is packed in a durable cardboard colorful box, it is a good idea for an interesting gift.