Pix-it blocks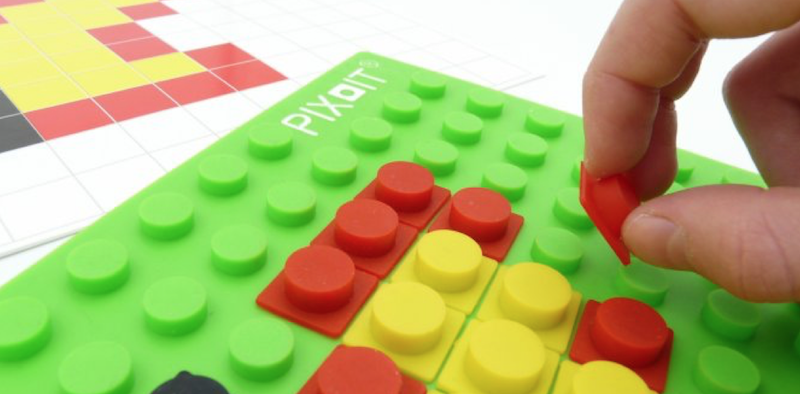 PIX-IT are absolutely unique blocks. At first they are associated with a game of ships. We have a white barred surface and blocks stacked on it. Their great advantage is that they come in intense, almost neon colors. Thanks to this, it is difficult for the child to take his eyes off them. These blocks are perfect for toddlers who are just learning to reproduce what is in front of them. It is enough to unfold the silicone mat, which is included in the set, in front of the child. And then show him the picture that you want to recreate with the help of blocks. It could be, for example, an airplane.
What's included in the Pix-it tileset?
PIX-IT are blocks that are most suitable for a gift for a 4-year-old . They will surely provide him with a lot of fun and also help him develop new skills. In this category you will find 4 different sets of Pix-it blocks . The largest set has as many as 360 elements, and the smallest one, consisting of 32 elements, will be the perfect solution to start your adventure with Pix-it bricks. The largest set includes two laying mats, one in green and the other transparent, plus two books with inspiration for creating paintings. An interesting set is also Pix-it Rainbow, 180 elements in very expressive colors with imprints of letters, numbers and emoticons, all packed in an aesthetic bag that will help keep the children's room tidy.

The fun is endless with Pix-it blocks!

All elements are made of silicone, plastic material. The nice-to-touch element will appeal to both girls and boys. It has long been known that the favorite fun for children is arranging puzzles and building with blocks, Pix-it sets are a combination of two favorite areas of play for your children.

Can placing silicone elements on the mat have an educational impact?

Yes of course! Those are

 

educational blocks

not only because they are recommended by MENSA, but also because thanks to them, a child can, for example, learn letters and numbers by arranging them from blocks on the mat. During the laying process, the child develops both his imagination, creativity, mathematical skills, as well as the ability to concentrate and focus on the task.