Wooden Magnetic Kooglo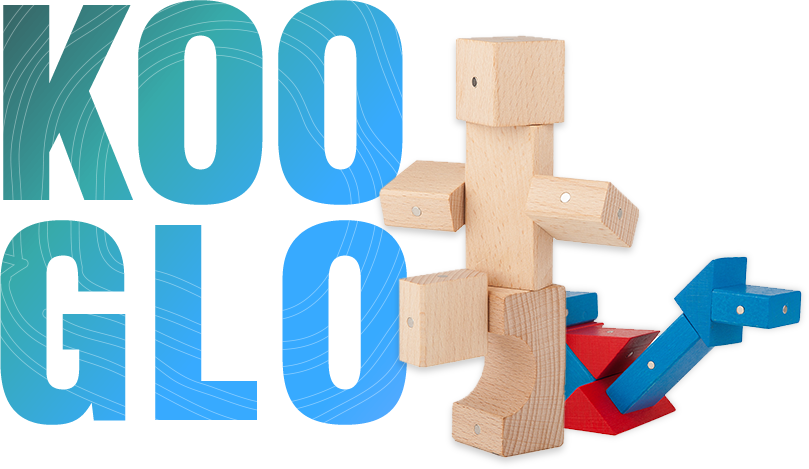 The blocks combine the tradition of playing with wooden toys with a modern approach. Magnetic blocks are a beautiful story of children's play through the ages. Often, however, buildings made of blocks were destroyed - one move was enough for the entire child's intricate structure to be destroyed. That is why Kooglo blocks were created, which were supplemented with delicate magnets. Thanks to this, the buildings will not fall apart, and the attracting blocks can be arranged into various spatial structures. The Kooglo series of wooden blocks is a great alternative to traditional sets. Wooden blocks have magnetic elements that connect easily with each other. Thanks to this toy, your child will be able to build any object they can imagine.
Kooglo blocks do not contain sharp edges, so even the youngest children can play with them and they are completely safe to play. Each set comes with a guide that includes tips and examples of objects. You can choose from sets in a natural color or with elements of many colors. Each of the selected sets will surely be a very good gift for a child, regardless of age. The offered Kooglo magnetic wooden blocks are universal toys that allow you to play for many hours, and the time spent playing will certainly have a positive impact on development and increasing your abilities.

Variety of sets
The sets differ in the number of elements
, which can be 30 - Mini Color and Mini Natural sets or 50 - Basic Natural or Basic Color sets. The largest sets of up to 100 elements - Mega Natural and Mega Color offer greater possibilities of creating buildings. The smaller ones are very easy to transport and very practical. The sets, as the name suggests, can be purchased in a version of natural wood or with elements of many colors. There is something different for every child. Sets consisting of 30 elements are not only a great idea for a successful gift, but also a great solution for a child to diversify the game, who had to do with ordinary wooden blocks without the possibility of connecting them with a magnet.