Kooglo blocks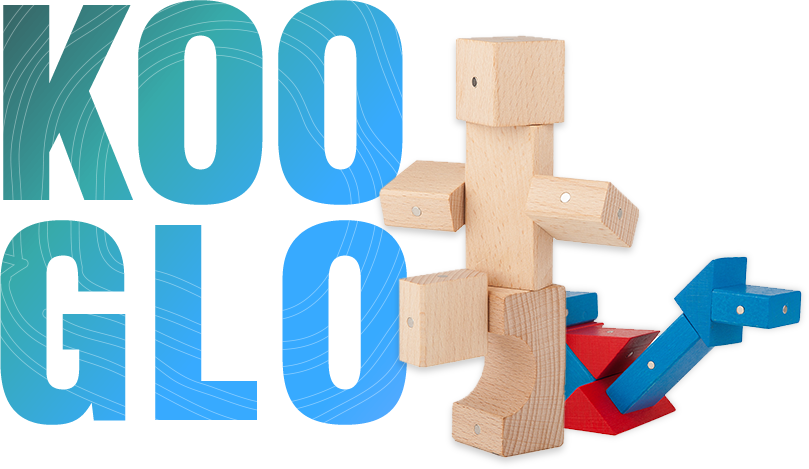 The blocks are toys with a very timeless and universal character. Although these toys have been modernized over the years, many of them still exist in their classic form. Kooglo wooden blocks for children are a perfect combination of traditional blocks with a modern form - thanks to the presence of magnets, wooden structures gain durability and solidity. Magnetic blocks between the blocks make building wooden structures easier and more interesting than ever. Magnetic blocks for children easily interlock with each other on any plane, thanks to which they can create various objects, not just compact solids. In the past, one imprecise movement was enough to make all the efforts put into placing the blocks to be wasted.
Kooglo wooden blocks
With Kooglo toys, you do not have to worry about it - the magnets in the blocks are so strong that they are able to protect the structure from accidental pressure or thrust. Kooglo toys have been designed with children of different age groups in mind, with particular emphasis on the youngest users. Construction blocks for a 2-year-old ensure the child's complete safety - all elements are made of natural wood and have been stripped of sharp edges. Kooglo blocks are large in size and even imprecise handles are able to cope with grabbing individual segments and connecting them. The effects of play are visible after a while, and the toddler can enjoy his first achievements.
Easy connection of elements into multi-dimensional models is a clear advantage of construction toys. Wooden blocks are unique toys that combine what is most important in a successful game: ease of arrangement, simplicity of shapes and safety of play. The ecological aspect of natural materials is also important. Children interact with natural wood, learning its texture, and the vivid colors of the elements allow them to build beautiful colorful models.