Meli Basic Constructor blocks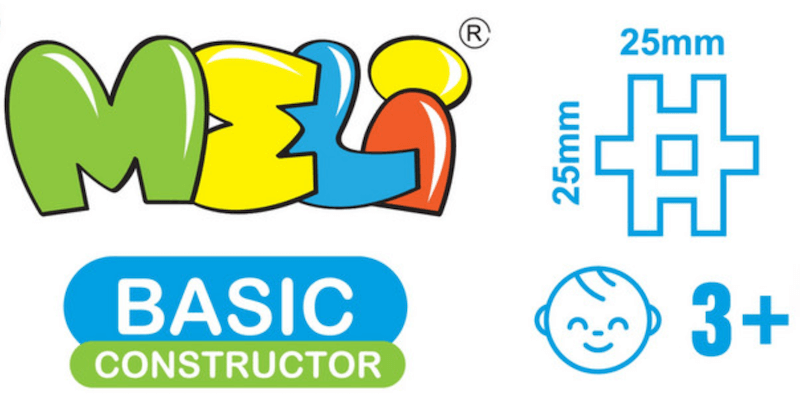 MELI Construktor is a new proposition for brand lovers. The sets have been supplemented with completely new elements that greatly diversify the fun. Now every little builder can build even more interesting models and structures. Virtually unlimited building and creation possibilities are a definite advantage. All new sets will surely be an equally interesting gift idea for various occasions. Colorful and aesthetic packaging is an additional advantage.
Meli Constructor blocks for small builders
Construction blocks are a great proposition for every child who likes to build. The kits contain hundreds of items, so you will definitely be able to play with them for a long time. There can be no question of boredom here. These types of bricks offer a lot of possibilities. They surely develop the imagination very much. The Meli Constructor sets include elements that are not available in the Meli Basic or Meli Maxi series. Thanks to this, they can be used to build vehicles, interesting models or buildings. In addition, each set comes with a manual with ideas on what can be built with these bricks. The manual is so good that children can play together with their parents thanks to it. It connects you and gives you a lot of fun. You can buy such blocks for your child, for example, for a birthday or Christmas. It is also a good gift idea when you are going to see friends who have a few years old child. The advantage is that there is no need for additional gift wrapping as the packaging is colorful and durable. Surely every child will be happy with such a gift.
Why is it worth buying Meli Constructor blocks? First of all, because they will allow your baby to develop. Creating a building not only develops the imagination, but also teaches logical and strategic thinking. The child can play them safely on their own, because they connect easily with each other. They are made of a durable material that fits well in the hand. They are safe for the baby. This is a great proposition for any child who likes to build.
Meli Construktor blocks are even more fun. Unlike Meli Basic, they have even more interesting elements. Thanks to them, you can build countless models and structures. The larger the set, the more possibilities, of course. The sets of construction blocks are packed in colorful packages that attract the child's attention from the very first moment. These blocks will surely appeal to both boys and girls. Everyone will find something interesting in building more advanced structures. Meli Construktor blocks will be a very good gift for a toddler for various occasions. A gift idea with fantasy!